NetApp introduced a new NAS-only system from the All-Flash FAS series, called C190 NAS. Its internal 2U-high chassis contains two controllers and two redundant power supplies. On the front side of the device there is enough room for up to 24 internal SSD drives.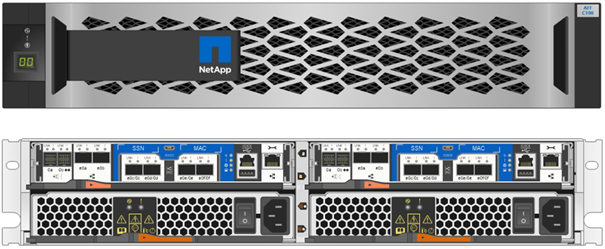 The controllers on C190 NAS, work in Active/Active mode. It means that the controllers work independently, each serving their workloads. 
On the occasion of a sudden power failure, all unregistered data will be copied to the controller's internal flash memory, so the data will be saved, in cases of longer failures (battery-assisted NVRAM memory).
AFF C190 NAS has 2x64-bit 8-core Intel CPUs and 64GB RAM, and comes only in the pre-configured Express Pack variants with 960 GB and 3,8TB SSD drives.
| | |
| --- | --- |
| Number/type of drives | Raw Capacity |
| 8 x 960 GB | 7,7 TB |
| 12 x 960 GB | 11,5 TB |
| 18 x 960GB | 17,3 TB |
| 24 x 960 GB | 23 TB |
| 36 x 960 GB | 34,6 TB |
| 48 x 960 GB | 46 TB |
| 8 x 3,8 TB | 30,4 TB |
| 12 x 3,8 TB | 45,6 TB |
| 18 x 3,8 TB | 68,4 TB |
| 24 x 3,8 TB | 91,2 TB  |
    
In terms of connectivity, there are 8 UTA2 ports (4 per controller), for UTA variation of this system,  which can be 10Gbps Ethernet, 1Gbps Ethernet BASE-T, or their combination. At least one pair of ports per controller must be identically configured.
There is also a variation with 8 BASE-T ports (RJ45), which must be 10Gbps Ethernet (they can work at 1Gbps).
The figure below shows one of two C190 controllers inside the chassis.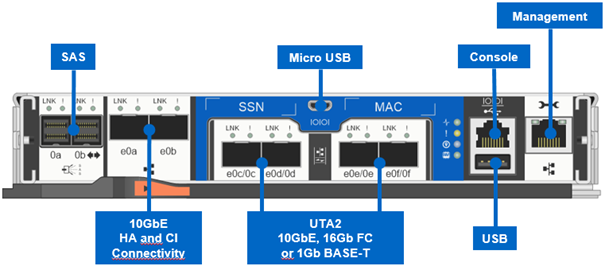 Software features included in the software package
CIFS/NFS - the device comes with all licensed protocols, as well as the necessary physical ports to connect to servers /clients. 
Snapshot - NetApp functionality patented for the creation of a large number of data images in NAS environments. NetApp Snapshot can be created within seconds, regardless of the size of the data set, because this functionality does not overwrite/copy data while creating a Snapshot. For that reason, there can be thousands of Snapshots on the system without affecting performance.
Inline zero deduplication – Inline removal of all-zero blocks before these blocks are stored on disks.
Inline/post-process compression – data compression performed on a "group of blocks" level, enabling significant space savings. Inline compression performs before the data is stored on disks. The data which requires more resources is subsequently compressed, using post-process compression.
Inline/postprocess deduplication - aggregate-level deduplication that takes a 4KB block as a unit. Inline deduplication performs before the data stores on disks. The data that requires more resources are subsequently deduplicated, using post-process deduplication, also at the block level.
Inline data compaction - Inline data compaction is a novelty in ONTAP version 9. This functionality is in charge of packing logic blocks smaller than 4KB into a single 4KB physical block on disks. The process takes place before the data stores on disks, and it produces a dramatic increase in effective space on All-Flash systems. It is enabled on FAS systems, as well.
Take a look how this process works when all of these three functionalities are involved - deduplication, compression and compaction:
1.    The first thing that happens, as the data comes to registration, is the detection of blocks that contain all zeros. These blocks do not store on disks. The metadata is recorded instead of them.
2.    After that, an inline deduplication process starts. This functionality was first implemented in version 8.3.2, but the testings were performed only on the data that occurred in memory. With the current version 9, this functionality applies to both the data in memory and the data recently written to disks. In addition to this process, NetApp offers the postprocess deduplication option, where the data, not already deduplicated in the inline process (before writing to disks), is being checked and deduplicated subsequently. Deduplication takes place at a system level, which means that all data on the storage system is considered as a single set that needs to be deduplicated.
3.    The next step is inline compression. This process determines effectively whether a block can be compressed by more than 50%. The check occurs to prevent spent of CPU cycles on data, which compression could bring more losses than gains. In addition to this process, NetApp has also the ability of a postprocess compression, which can perform compression even after the data is written to disks.
4.    After the completion of all the processes described above, but before the data is written to  disks, a process called data compaction occurs (functionality presented in version 9 of the ONTAP OS). All the data that has gone through a compression process previously, or has not yet passed verification, are the candidates for data compaction. Before writing to physical blocks, small, uncompressed data blocks (less than 4KB), as well as the data with the compression ratio of more than 75%, are logically placed in a 4KB physical block, which is, in such a form, written to disks. As a rule, the smaller the documents are, and compression is higher,  inline compaction has a greater synergistic effect.
RAID-DP – RAID-DP is a NetApp default RAID type (RAID-Double Parity). It requires two parity disks per RAID group and protects data in case of a simultaneous failover of up to two disks. RAID-DP also allows on-line expansion of RAID groups.
Thin Provisioning – functionality used for presenting to servers/clients significantly higher logical capacity than the physically occupied capacity on the storage system itself.
FlexVol - logical containers. Over FlexVol all other functionalities are performed: Snapshot, deduplication, compression, compaction, thin provisioning, SnapMirror, SnapVault, etc. FlexVol logical volumes can be dynamically expanded but also reduced without interruption of applications' operations.
NetApp Volume Encryption - software-based technology for encrypting data at rest, at the volume level. The encryption key is only available to the storage system and ensures that data cannot be read if the drives are removed from the system itself. Both data and metadata are encrypted. The ability to use the built-in Onboard Key Manager allows you to store keys on the system itself, and there is also a possibility of using an external Key Manager. 
Storage QoS - this functionality ensures that critical workload performance will not be degraded by other workloads competing for the same resources. It is possible to set QoS Max and QoS Min for each workload. QoS Max or Qos ceiling is the maximum throughput that a certain workload can "occupy", and it limits its impact on system resources. The QoS Min or QoS floor is adjusted at critical workloads, ensuring that it will receive the minimum necessary throughput values regardless of the other workload requirements. It is possible to set both QoS Max and QoS Min at the same workload. Adaptive QoS will automatically increase/decrease the QoS value with the increasing/ decreasing of the workload size, maintaining the IOPS/TBs (GBs) ratio.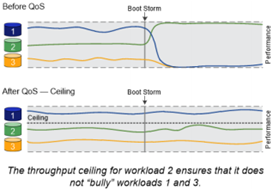 System Manager - OnCommand System Manager is a graphical interface that allows users to manage NetApp storage systems and objects (drives, volumes, aggregates) and perform general tasks related to storage systems from a web browser. Cluster administrators can use the System Manager to administrate the entire cluster and its resources.
Unified Manager - Active IQ Unified Manager is a graphical product that provides extensive monitoring and management capabilities across multiple NetApp ONTAP systems (clusters) to enable management of the availability, capacity, security, and performance. Unified Manager can be installed on Linux and Windows servers or as a virtual appliance on a VMware host.
Workflow Automation - OnCommand Workflow Automation is a software solution that helps automate management tasks, such as provisioning, migration, decomisioning, data protection configurations, and cloning. Workflow Automation is used to design task flows specified by a company process.
Virtual Storage Console, VASA Provider, and Storage Replication Adapter - VSC, VASA Provider, and SRA capabilities for the VMware vSphere product suite provided through a single virtual appliance. This toolkit enables vCenter Server plug-ins that provide end-to-end lifecycle management for virtual machines in environments that use NetApp storage systems.
ActiveIQ - NetApp Active IQ is a web-based service created for predictive analytics and proactive support to provide optimized operations. Active IQ works with AutoSupport and is used to present information and enable an easy analysis for modeling and optimizing storage infrastructure.
SnapRestore - presents functionality that performs data recovery from Snapshot almost instantly, without copying data. 
FabricPool - A hybrid storage solution that uses All-Flash aggregates as a performance tier and object storage as a capacity tier. FabricPool will store "hot" data on All-Flash, while it will move inactive "cold" data to object storage, which can be located both in the cloud or on-premises (NetApp StorageGRID). 
Inactive data can take up to 80% of the total storage space, making FabricPool an extremely efficient solution, which significantly reduces storage costs without affecting performance, efficiency, or protection. It monitors user activities over each block of data and marks them as "hot" or "cold". Metadata always stays on SSDs, while "cold" data is packaged in 4MB objects and sent to object storage or ONTAP system based on rotating drives (HDDs). The whole process is completely transparent for users and applications.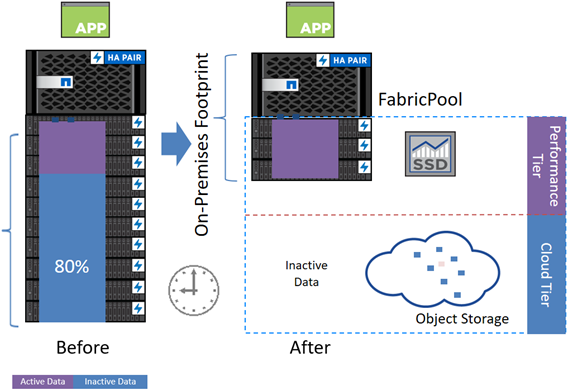 C190 NAS usage scenarios:
Management of primary unstructured (CIFS & NFS) data - high speed & large capacity
Real time tiering of "cold" data to Cloud (Azure, AWS, GCP)
Direct backup to Cloud (Azure, AWS, GCP)
Next steps?
Please contact your nearest NetApp BDM in ALEF Group (list below):
Ana Bondzic (ALEF Belgrade)
Tihamer Katona (ALEF Budapest)
Jan Vojtech & David Rusin (ALEF Prague) 
Drazen Gracin (ALEF Zagreb)
Tilen Balazic (ALEF Ljubljana) 
Marius Musat (ALEF Bucharest) 
Panagiotis Kokkonis (ALEF Athens)
Miroslav Simko (ALEF Bratislava)