In our team we are currently looking for a F5 System Engineer.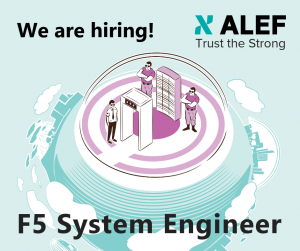 About the Position
We are looking for a highly motivated self-starter, responsible for overall F5 technologies. System support and implementation of technical cases for partners, implementation of EC (Expert Center) services mainly in the area of security. Understanding the needs of customers and ensuring technical cooperation with the sales department, working with the team leader.
Main Duties and Responsibilities
Professional support at all stages of the technical case or service of the Expert Center (EC) - support of the current business situation, analysis and definition of demand and cooperation with the business team to solve it, identification of other business opportunities.
Security and F5 projects implementation and documentation
Deliver security and F5 trainings
A psychically strong and mature personality with a leading talent that considers stress as a natural part of achieving challenging goals.
High degree of personal courage and motivation to succeed.
Loyalty to the business
Skills and Qualifications
Higher education, technical direction advantage.
Experience in IT / Networking, especially security
Experience in F5 technologies
Experience with training, work on projects, consultations, service activities, etc.
Bachelor degree or higher in business administration or engineering, or equivalent work experience.
Ability to work independently and teamwork.
Ability to work with high engagement and bring projects to the final state.
Must be able to read, write and speak English
Must also be fluent in local language as this role supports local channel partners.
What We Offer
Competitive base salary and benefits
Performance bonus
Friendly and dynamic team
Possibility to learn the most up to date technologies
How To Apply
If this above sounds like an exciting opportunity and you meet the requirements please send your resume and motivation letter with the position in the subject to: hu-jobs@alef.com