NetApp Cloud Volumes ONTAP is a software-only storage subscription running the NetApp ONTAP storage software. It delivers secure, proven storage management services for Azure, Google Cloud and AWS storage. Building a cloud storage environment on Cloud Volumes ONTAP provides enterprise-class features for cloud storage.
In today's IT environment, businesses need the flexibility and efficiency that a cloud environment provides. For fast deployment of IT resources or for applications with varying usage needs, the cloud provides a level of flexibility unmatched by any on-premises solution. Use only what you need when you need it.
With virtual machines, the cloud has become a go-to deployment model for applications that have unpredictable cycles or variable usage patterns and need to be spun up or spun down on demand. However, when it comes to data, it is not as straightforward. Data used to be the enabler of business performance—now data IS the business. And how you use, manage and consume data is also changing. Because data is difficult to pick up and move to a new location, there needs to be a simple, controlled solution that gives IT professionals the ability to manage their data with the same functionality that their own private environments offer. They need a single, cohesive data environment, or data fabric, to give them control of their data no matter where it is.
Managing Data in the Cloud
Public cloud providers such as Microsoft Azure, Amazon Web Services (AWS) and Google Cloud, offer many services, including infrastructure as a service, where raw server and storage resources are rapidly deployable. The raw server or virtual server environments can be used to run applications and the raw storage for storing data. To utilise the storage in a way that is consistent with your data center premises, it is important that your cloud data is managed and protected. Although hyperscale cloud providers offer many solutions and services for application data, consider the following questions:
How do you validate that your data is secure, under control and consuming the least amount of cloud resources to address your needs?
Can you simply and easily get data in and out as you do in your own storage environments?
Do your teams need to learn a new set of interfaces and tools?
Does the storage have functionality such as file share services (SMB and NFS), data deduplication, or multiregion replication?
NetApp can help manage your data by:
Controlling public cloud storage resources with NetApp® Cloud Volumes ONTAP® software.
Providing rapid point-and-click from NetApp Cloud Manager so you can deploy advanced data management systems on your choice of cloud in minutes.
Letting you deploy more applications in the cloud with multiple storage consumption models that provide the flexibility for you to use just what you need, when you need it.
Control Public Cloud Storage Resources
NetApp Cloud Volumes ONTAP data management software delivers control, protection, flexibility and efficiency for your data on your choice of cloud. Cloud Volumes ONTAP is cloud-native data management software built on NetApp ONTAP storage software that provides a superior universal storage platform from your data center to the cloud. Having the same storage software in the cloud as you do on-premises maximises the value of a data fabric, while saving you from the expense and time of training your IT staff all new storage management methods.
Cloud Volumes ONTAP provides a data storage solution that fits many different workloads including disaster recovery, development and test environments to cloud-based applications that require highly available non-disruptive operation, such as production business applications and file services using NFS and SMB. It is deployed and managed from NetApp Cloud Manager as a software-only solution on cloud compute instances managing cloud storage. You can build a virtual storage environment directly on your choice of cloud resources.
Building your cloud storage environment on Cloud Volumes ONTAP provides enterprise-class features for your cloud storage. With ONTAP you can:
Minimise your cloud storage resources with efficiency features such as data deduplication, compression, compaction and zero capacity snapshot copies—which can act on your primary data.
Provision both NAS and SAN storage for your application environment with CIFS/SMB, NFS and iSCSI support.
Provide near-instantaneous point-in-time backups of your data with zero-impact NetApp Snapshot™ copies.
Create application-consistent Snapshot copies with ONTAP SnapCenter® software.
Leverage the storage replication SnapMirror® technology, which brings your hybrid cloud together by tying your on-premises NetApp AFF, FAS hybrid and ONTAP Select software-defined storage, as well as NetApp HCI, to your Cloud Volumes ONTAP environment.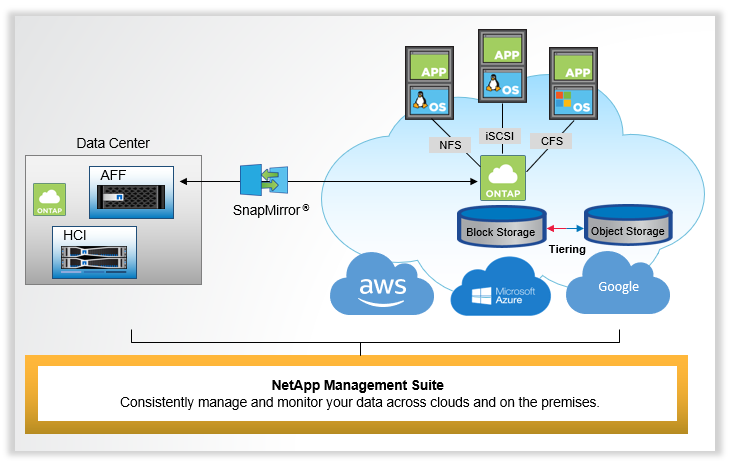 Figure 1: Cloud Volumes ONTAP – Delivering the world's leading storage software on your choice of cloud.
Deploy Advanced Data Management Systems
Cloud Manager software is a centralised management environment for your ONTAP software-based hybrid cloud storage environment, including the Cloud Volumes ONTAP, AFF, FAS and ONTAP Select storage systems. Cloud Volumes ONTAP is deployed through NetApp Cloud Manager. It provides installation, resource assignment and provisioning of data. Cloud Manager is used for day-to-day management activities of the cloud data resources.
Cloud Manager provides day-to-day management activities for your data fabric endpoints. It automates your data movement to and from the cloud. Cloud Manager ties into your cloud environment, so that you can use your cloud credentials to gather the necessary resources to meet your storage requirements. With visibility into the resources consumed by each Cloud Volumes ONTAP instance, Cloud Manager monitors and provides valuable feedback on the cost of resources. With this information you can identify and move workloads to the most cost-efficient environment. Cloud Manager key benefits include:
Simplifies deployment and configuration of Cloud Volumes ONTAP
Provides a central point of control for all Cloud Volumes ONTAP instances
Automates data movement between your premises and the cloud
Provides cost monitoring of your cloud storage resources
Eases licence, entitlement and upgrade management
Facilitates hybrid environments that include Cloud Volumes ONTAP, AFF, FAS and ONTAP Select storage systems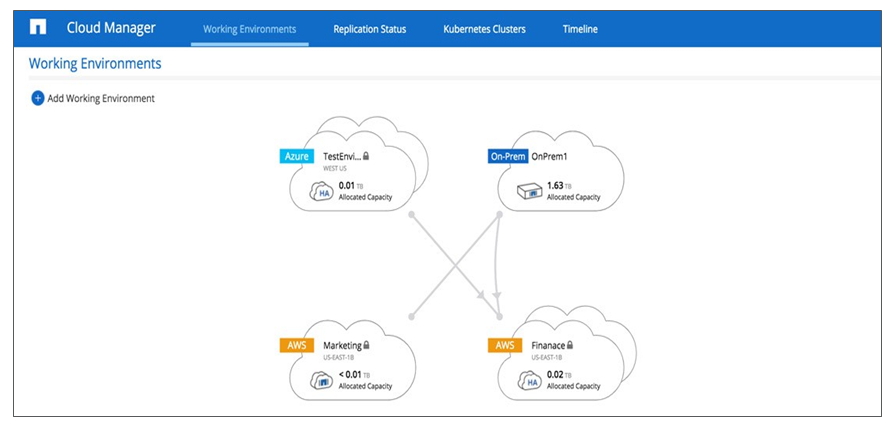 Figure 2: NetApp Cloud Manager.
Provide Multiple Storage Consumption Models
Cloud Volumes ONTAP provides two methods for consuming storage:
Pay as You Go
Pay as you go is purchased directly from your cloud provider marketplace and is charged on an hourly basis. For short-term application needs and/or for environments that must spin up or down on demand, the pay-as-you-go consumption model is the best fit.
Bring Your Own Licence
The bring your own licence or BYOL model is a licence purchased from NetApp. It is installed in your Cloud Volumes ONTAP instance. BYOL subscriptions can be purchased in 1-, 2-, or 3-year increments. If your application is more deterministic and/or will be used for longer periods of time, the subscription model may be utilised.
There are multiple solutions within each consumption model that range from the smaller pay-as-you-go solution at 2TB to the larger subscription model of up to 368TB of raw capacity.
Data Privacy and Compliance
Cloud Volumes ONTAP includes a cloud compliance data privacy and compliance service. Using artificial intelligence (AI) driven technology, Cloud Compliance helps organisations understand data context and identify sensitive data across Cloud Volumes ONTAP systems. Cloud Compliance maps and identifies your data, in clouds managed by Cloud Volumes ONTAP and automates the most challenging tasks introduced by GDPR, CCPA, PCI, HIPAA and other data privacy regulations.
Cloud Compliance provides several tools that can help with your compliance efforts, including:
Identify Personal Identifiable Information (PII)
Map all Cloud Volumes ONTAP sensitive data
Locate data privacy violations automatically
Generate Data Subject Access Reports (SAR or DSAR) in seconds
Generate Privacy Risk Analysis Reports
Enforce restrictions to sensitive data migration
Using Natural Language Named Entity Recognition, Cloud Compliance is able to intelligently pinpoint data instances that may cause potential data privacy violations. Other data privacy solutions rely on simple search functions and pattern matching, which often results in large amounts of inaccurate information and false positives. The AI-based data mapping used by Cloud Compliance gives results based on a contextual understanding of the data. Reports are more accurate with less manual effort.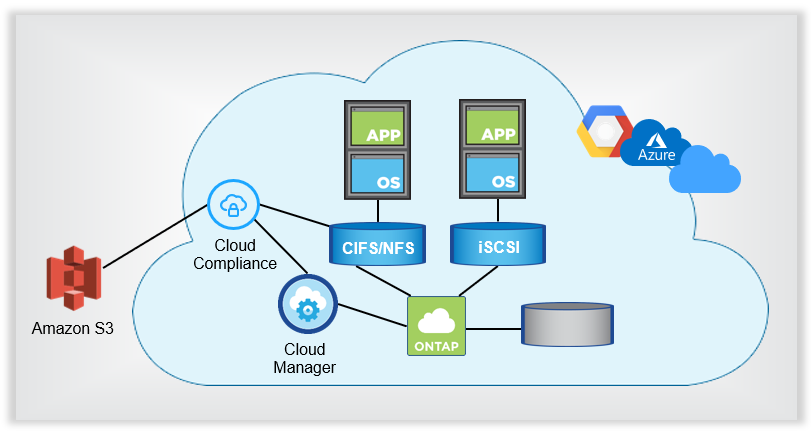 Figure 3: Cloud Compliance architecture – Independent Cloud Instance (AWS/Azure/Google) inside your internal cloud network, connects directly to Cloud Volumes ONTAP data sources via NFS/CIFS, connects to external services (Amazon S3), integrated dashboard within NetApp Cloud Manager.
A True Hybrid Cloud
NetApp offers a wide variety of options to help you determine the best infrastructure for your application and economic needs. These options range from on-premises AFF or FAS storage systems to ONTAP Select software-defined storage, NetApp HCI and in the cloud with Cloud Volumes ONTAP software.
 
 Microsoft Azure 
 Google Cloud
 Amazon Web Services
 Licensing

Pay as you go

 

BYOL

Pay as you go

 

BYOL

Pay as you
go
 

BYOL

Available HA support
Yes
Yes
No (future)
No (future)
Yes
Yes
Protocol support
NFS, SMB, iSCSI
NFS, SMB, iSCSI
NFS, SMB, iSCSI
Encryption at rest
NetApp Volume Encryption
Azure Storage Service Encryption
NetApp Volume Encryption
Google Cloud Platform default encryption
NetApp Volume Encryption
AWS encryption with default key or external key
 Encryption in transit
 Yes
 Yes
 Yes
 Data protection
 Snapshot copies, SnapMirror data replication for disaster recovery and backup, NetApp SnapRestore® data recovery
 NetApp FlexClone® volumes
 Yes
 Yes
 Yes
 Yes
 Yes
 Yes
 Storage efficiency
Thin provisioning, data deduplication, compression, compaction  
 NetApp SnapLock® file locking (WORM)
 Yes
 Yes
 Yes
 Yes
 Yes
 Yes
 Data tiering to object storage
 Yes
 Yes
 Yes
 Yes
 Yes
 Yes
 Region support
 See the full list on the Cloud Volumes Global Regions page
 Disk/volume types
Standard HDD
Standard SSD
Premium SSD
Standard storage: pd-standard
Premium storage: pd-ssd
 GP2, ST1, SC1 and IO1
 Solution capabilities
Explore: up to 2TB
Standard: up to 10TB
Premium: up to 368TB
BYOL: up to 368TB 
Explore: up to 2TB
Standard: up to 10TB
Premium: up to 64TB
BYOL: up to 64TB;
up to 368TB when using data tiering
Explore: up to 2TB
Standard: up to 10TB
Premium: up to 368TB
BYOL: up to 368TB