NetApp HCI is an enterprise-scale, hybrid cloud infrastructure that gives you the ability to provide users with a public cloud experience from your private cloud. Deliver an as-a-service experience to your users while maintaining complete control over performance, availability, and costs.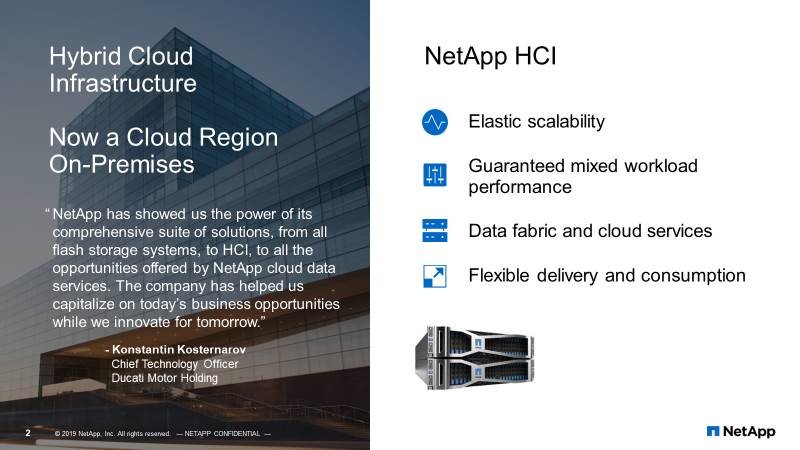 NetApp HCI is a hybrid, multicloud infrastructure that consists of software-defined compute, network, and storage. It delivers a public cloud consumption experience with simplicity, dynamic scale, and operational efficiency. With NetApp HCI, infrastructure and cloud architects can seamlessly access services from their premises or from any third-party cloud provider and mix and match these services to optimize resources for specific workloads and applications.
NetApp HCI gives you the ability to easily manage and run multiple applications with the predictable performance that your users and customers demand. Scale compute and storage resources independently, so you never pay for more than you need. Deploy in minutes with a turnkey cloud infrastructure that eliminates the complex management of traditional three-tier architectures.
Now a cloud region; private/DevOps/VDI/EUC workloads – Serves different IT needs on a single platform (Pull in Red Hat/VMware.) <> Only NetApp makes your private cloud experience feel like public cloud – from flexible consumption and zero-touch management to the scalability and security your business needs. All powered by data fabric.
Benefits of HCI
Predictability. One of the biggest challenges in any data center is delivering predictable results, especially in the face of proliferating applications and workloads. Any time you have multiple applications sharing the same infrastructure, it's possible for one application to interfere with the performance of another. NetApp HCI solves predictability challenges with industry-leading performance capabilities that allow the granular control of every application. NetApp HCI's performance settings eliminate resource contention and variable application performance.
Flexibility. The relentless pace of business change means you need maximum flexibility to adapt to any workload while using existing investments. NetApp HCI offers a highly configurable design that enables cloud-native application development and agile operations for virtualized environments. Innovate and deliver applications faster on a platform designed for the applications of today and tomorrow.
Simplicity. A common goal of IT organizations is to automate all routine tasks, eliminating the risk of user errors associated with manual operations. NetApp HCI streamlines installation so that it takes minutes instead of hours, and simple, centralized management with VMware lets you control NetApp HCI through tools you already use. NetApp HCI thus allows you to focus valuable resources on higher priorities that drive business growth.
Why NetApp for Hyper Converged Infrastructure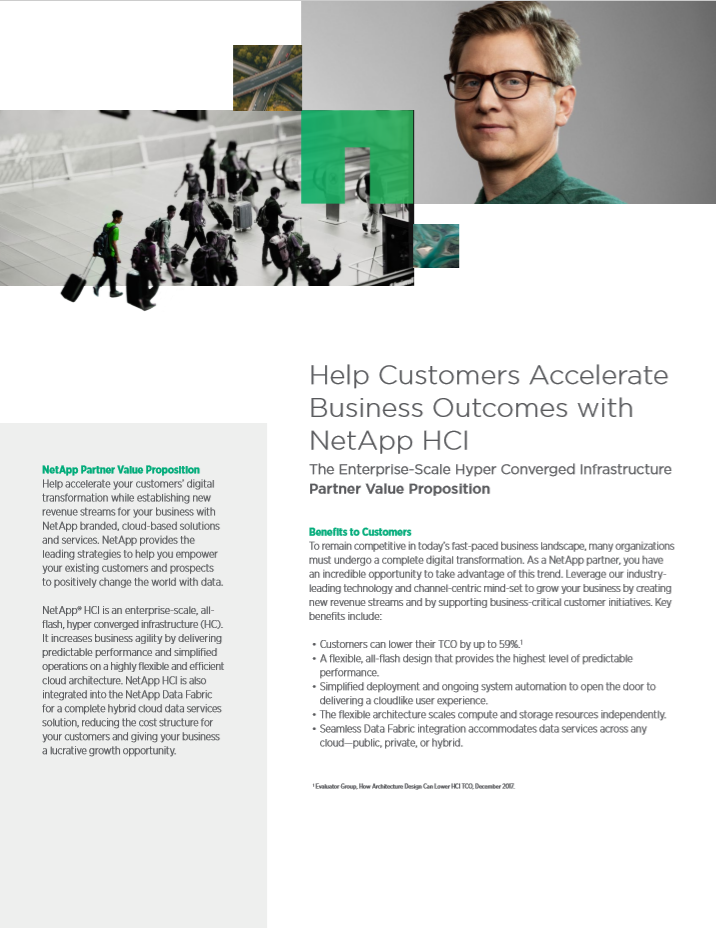 Gartner predicts that by 2020, "at least 20% of all business-critical applications will have moved from traditional infrastructure to HCI."1 No other hyper convergence solution delivers enterprise-grade features like NetApp HCI. These features include no-tax efficiencies such as inline deduplication, inline compression, and postprocess compression turned on by default.
The NetApp HCI architecture is designed for workload consolidation and VMware private clouds. NetApp HCI can scale to 40 storage nodes and 64 compute nodes, so you can scale at the ratio and rate that the application needs for compute and storage.