The Cloud can be an expensive place to learn. We at ALEF strongly believe that knowledge is the driving factor in Hybrid Cloud adoption, so in order to help you on this journey, we created a Hybrid Cloud environment comprised of 3 remote locations. The first site is built within ALEF's DC, with on-premises NetApp physical and virtual appliances (All Flash AFF A250, StorageGRID, SolidFire & ONTAP Select SDS).  The other two data centers are built in Azure and AWS, with almost any service NetApp currently has to offer in a Public Cloud environment.
These three sites are interconnected via a Site-to-Site VPN connection.
The main intent of this Briefing & Demo Center is to help NetApp, Microsoft & AWS partners learn and test various Azure & AWS technologies, NetApp Cloud Data Services, as well as NetApp on-prem data technologies.
In addition, whether you are considering a Backup to Cloud project, or your goal is to build a Disaster Recovery site in Azure or AWS for your primary DC, or you are just interested to know the basics of Azure, AWS, or NetApp, we cover it all!
Depending on your needs, we can help prepare and let you test it within our Hybrid Cloud environment in a way that best suits your particular use case. Our NetApp, Azure & AWS Engineers will walk you through Azure & AWS fundamentals (storage, compute, networking and security) or any of the NetApp solutions offered on-prem or in the Cloud.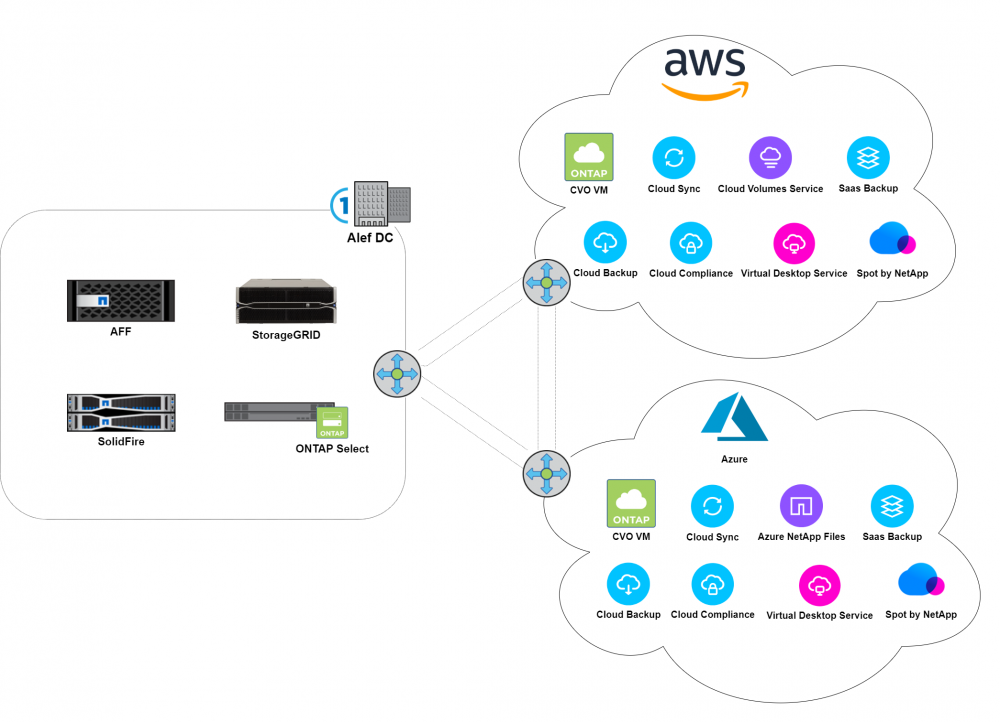 What can we offer?
We can help you understand Azure & AWS Core technologies and basic concepts (storage, compute, networking) - from the creation of an Azure or AWS account to a working Infrastructure as a Service (IaaS) solution

How to create a backup of your primary data in Azure or AWS, no matter what technology you have on your Primary DC

How to backup your on-prem NetApp system to Azure Blob by using a native solution from NetApp

How to avoid the building, securing, and operating secondary (or even tertiary) physical site by implementing cloud-ready and DR solutions

How to gain visibility into your data and become really GDPR compliant, whether your data resides on-prem (NetApp FAS / AFF, any Linux & Windows file server, OneDrive account, etc.) or in the Public Cloud

How to sync and replicate your data between ANY source and ANY destination in ANY environment

How to optimize and manage your Virtual Windows Desktop environment in Azure or AWS

How to save with archiving your cold data (S3 target, archive)
NetApp CDS solutions you can try in our Demo center
NetApp Cloud Manager is an enterprise-class, SaaS-based management platform that enables customers to centrally manage their hybrid multi-cloud infrastructure using NetApp's cloud solutions. Cloud Manager enables you to manage cloud storage and use cloud services in Amazon Web Services, Microsoft Azure, Google Cloud, as well as on-prem virtual or physical storage appliances.
Cloud Volumes ONTAP enables you to optimize your cloud storage costs and performance while enhancing data protection, security, and compliance. Cloud Volumes ONTAP is a software-only storage appliance that runs ONTAP data management software in the cloud (AWS, Azure, GCP). It leverages built-in data deduplication, data compression, thin provisioning, and cloning to minimize storage costs, ensures enterprise reliability and continuous operations via High Availability, and utilizes all well-known ONTAP existing features.
Cloud Backup is an add-on service for Cloud Volumes ONTAP and on-premises ONTAP clusters that delivers backup and restore capabilities for protection, and long-term archive of your cloud data. Backups are automatically generated and stored in an object store in your cloud account, independent of volume Snapshot copies used for near-term recovery or cloning.
Cloud Compliance is data privacy and compliance service for Cloud Manager that scans your volumes, Amazon S3 buckets, databases, OneDrive accounts, and other data sources to identify the personal and sensitive data that resides in those files. Using Artificial Intelligence (AI) driven technology, Cloud Compliance helps organizations understand data context and identify sensitive data.
Azure NetApp Files service is an enterprise-class, high-performance, metered file storage service. Azure NetApp Files supports any workload type and is highly available by default. You can select service and performance levels and set up snapshots through the service.
Cloud Insights is a cloud infrastructure monitoring tool that gives you visibility into your complete infrastructure. With Cloud Insights, you can monitor, troubleshoot and optimize all your resources including your public clouds and your private data centers.
Cloud Sync service offers a simple, secure, and automated way to migrate your data to any target, in the cloud or on your premises. Whether it's a file-based NAS dataset (NFS or SMB), Amazon Simple Storage Service (S3) object format, a NetApp StorageGRID® appliance, or any other cloud provider object store, Cloud Sync can convert and move it for you.
Cloud Tiering service extends your data center to the cloud by automatically tiering inactive data from on-premises ONTAP clusters to object storage. This frees valuable space on the cluster for more workloads, without making changes to the application layer. Cloud Tiering service leverages the capabilities of FabricPool.
Global File Cache enables you to consolidate silos of distributed file servers into one cohesive global storage footprint in the public cloud. This creates a globally accessible file system in the cloud that all remote locations can use as if they were local. Implementing Global File Cache results in a single, centralized storage footprint, versus a distributed storage architecture that requires local data management, backup, security management, storage, and infrastructure footprint in each location.
Virtual Desktop Service (VDS) solves the complexity of deploying and managing virtual desktops in the public cloud, delivered both as a flexible software service to manage your Virtual Desktop Infrastructure (VDI), or as a fully managed VDI as a Service platform. The Virtual Desktop Service removes the complexity of deploying desktops in the cloud taking the hundreds of tasks that took 2-3 days to deploy into just a few hours.
NetApp On-prem data storage solutions
ONTAP Select is a software-defined storage appliance you can deploy on a variety of commodity hardware servers running the VMware ESXi and KVM hypervisors. It provides the agility you need to build a flexible and scalable private cloud infrastructure.
StorageGRID solutions deliver high-density and cost-efficient object storage providing solutions for unstructured data, rich media, and distributed content. StorageGRID® is a software-defined object storage solution for large archives, media repositories, and web data stores. It uses intelligent policy-driven data management to store, protect, and preserve fixed-content data over long periods of time, seamlessly moving data between on-premises and public cloud storage to optimize its availability, protection, performance, and cost.
SolidFire all-flash storage allows you to be your own cloud service provider with simplified, API-driven storage at scale. Consolidate workloads with guaranteed performance, manage storage and compute independently, and make your next-generation data center a reality.
Monitoring
Unified Manager helps you to monitor a large number of systems running ONTAP software through a centralized user interface. The Unified Manager server infrastructure delivers scalability, supportability, and enhanced monitoring and notification capabilities. The key capabilities of Unified Manager include monitoring, alerting, managing availability and capacity of clusters, managing protection capabilities, and bundling of diagnostic data and sending it to technical support.
Application consistent Backup
SnapCenter software is an easy-to-use enterprise platform to securely coordinate and manage data protection across applications, databases, and file systems. SnapCenter simplifies backup, restore, and clone lifecycle management by offloading these tasks to application owners without sacrificing the ability to oversee and regulate activity on the storage systems. And by leveraging storage-based data management, it enables increased performance and availability, as well as reduced testing and development times.
NetApp Tools
Config Advisor is a configuration validation and health check tool for NetApp systems that can be deployed onsite for data collection and analysis. It is used to check NetApp system for the correctness of hardware installation and conformance to NetApp recommended settings.
OneCollect was created and designed to become the data collection standard for all NetApp solutions. It is an officially supported application with a broad charter of supporting any data collection needs a NetApp solution or application might need.
NetAppDocs tool is a PowerShell module that contains a set of functions to automate the creation of NetApp site design documentation. NetAppDocs can generate Excel, Word, and PDF document types.
7-Mode Transition Tool enables you to collect an inventory of your existing 7-Mode environment, assess its features and functionalities, and identify how these features and functionalities work after the transition. The tool simplifies the data migration process, preserving NetApp Snapshot® copies, deduplication and compression savings, system configurations, and SnapMirror relationships.
Active IQ is an AI-driven Digital Advisor that uses predictive analytics and community wisdom to create actionable intelligence for customers to protect and optimize their NetApp environment through a web UI, mobile app, and APIs.