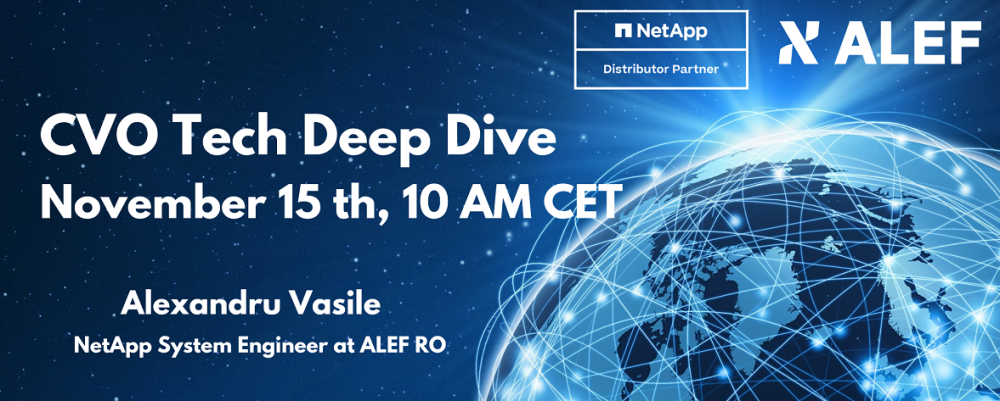 CVO Tech Deep Dive, the 15th of November 2022, from 10 AM to 12 PM CET
What is ONTAP? ONTAP is NetApp's Data management software that has been around for almost 3 decades. It is a mature and proven, yet innovative technology upon which Cloud Volumes ONTAP is based.
By design, It delivers extreme performance and advanced data management capabilities to satisfy even your most demanding applications in the cloud. Cloud Volumes ONTAP allows unified storage access by supporting both NAS and SAN data access protocols.
So your pods can access either and NFS or and iSCSI volumes provisioned on.
The provisioned volumes are efficiently managed, by ONTAP's built-in storage efficiency features, thus associated storage costs are reduced.
As well you could rest assure that your pods data is safe and secured by utilizing ONTAP's data protection features and services.
Cloud Volumes ONTAP is already implemented and working successfully with hundreds of customers globally and can be consumed the hour or upfront. Since ONTAP can be deployed on-premises and on private clouds as well, it enables us to support hybrid and multi-cloud environments seamlessly.
Agenda:
CVO Overview
Use Cases / Understanding Storage Limits
Licensing
Using TCO Calculator
Architecture Overview
Sizing
Lecturer: Alexandru Gabriel Vasile, NetApp System Engineer at ALEF RO
Duration: 2 hours
Location: Webex