ALEF Flexi Services are operated in the customer environment and enable the acquisition of IT infrastructure projects in the form of installments to simplify the entire purchasing process. 
By leveraging ALEF Flexi Services, you can offer your clients an additional option and establish yourselves as their trusted long-term IT partners. The flexibility of these services enables end clients to scale their resources as required, adopting a "pay as you grow" approach. Moreover, the comprehensive installation of hardware and software, including customer data, is conducted on-premises.
In addition to financing, ALEF Flexi Services encompass installation, operation, maintenance, and support of both hardware and software infrastructure. The choice of services to be provided is entirely customizable, allowing you to determine which aspects will be managed by us and which ones you prefer to handle internally. Furthermore, ALEF Flexi Services can incorporate ALEF Professional Services, such as architectural services, security services, and various consulting offerings. These services are designed to cater to customers of all infrastructure sizes, ensuring that scalability is not a limiting factor.
| | | | | |
| --- | --- | --- | --- | --- |
| | Flexibly respond to rapidly changing business requirements |   | | Meet IT requirements for using the latest technological trends, and for comprehensive infrastructure care |
| | | | | |
| --- | --- | --- | --- | --- |
| | Simplify the purchasing process significantly |   | | Ensure the security of customer and company data, and enable compliance with regulations |
| | | | | |
| --- | --- | --- | --- | --- |
| | Make it easy to use the hybrid cloud model |   | | Allow you to pay only for used capacity and services – pay as you grow |
ALEF Flexi Services are a business model
ALEF is your partner for modern financing of customer projects in the form of installments with the possibility of flexible growth according to the requirements of the end customer. Approach your customers together with us. We will be happy to help you with business argumentation and project architecture.
Advantages of the ALEF Flexi Services business model:
Long-term contract
Detailed knowledge of the customer and its business needs
Possibility of flexible HW/SW growth within one contract
Simplification of the purchasing process at the customer, elimination of high capital expenditures
The entire environment is monitored, and capacity planning is part of the services
Advantages of ALEF Flexi Services for the customer:
Pay as you grow
HW/SW is on-prem
Data is on-prem
Safety and simplified compliance with regulations
Installation, operation, maintenance, support of HW/SW infrastructure is included in Flexi Services
Reduced routine activity related workload on IT staff
Environmental monitoring and capacity planning is part of the services.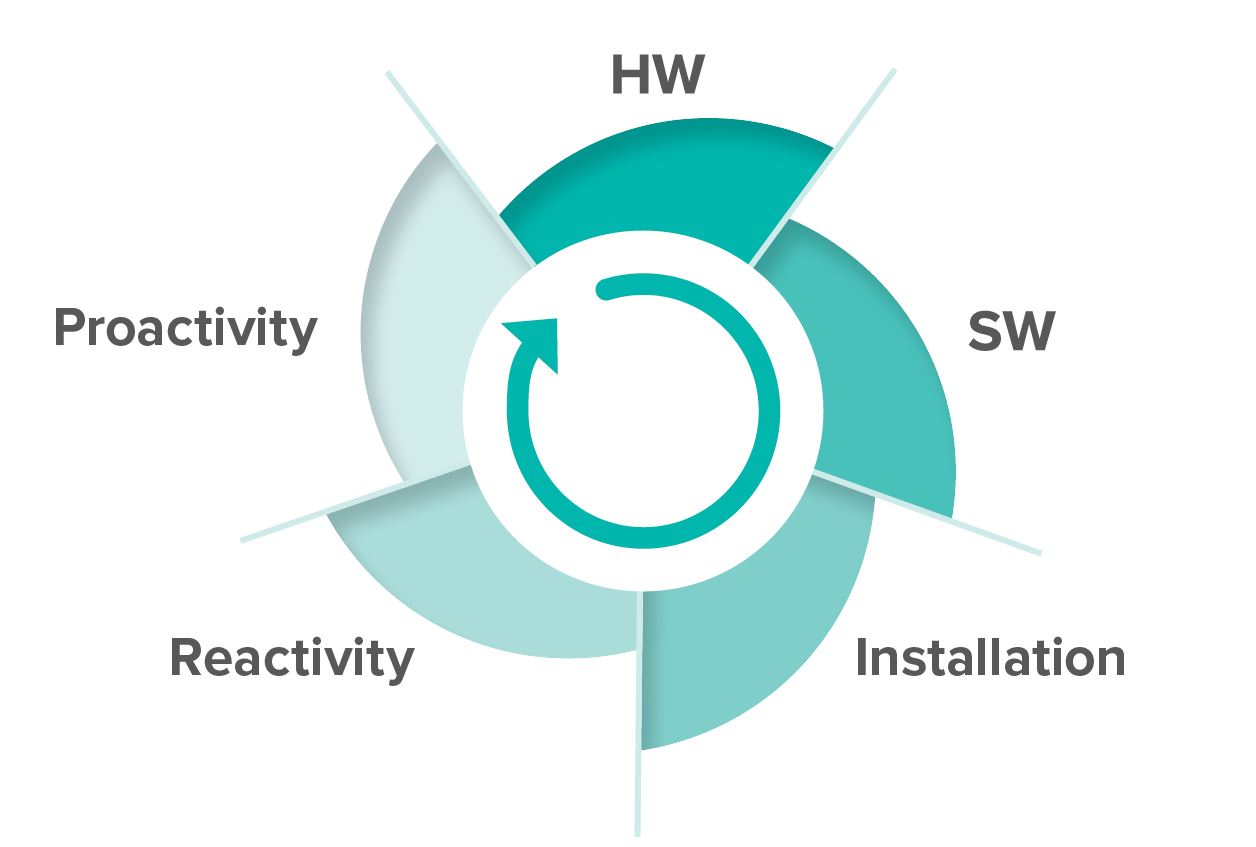 Flexible financing of infrastructure projects using ALEF FLEXI SERVICES combines the advantages of public clouds with the security of running IT in your own environment.