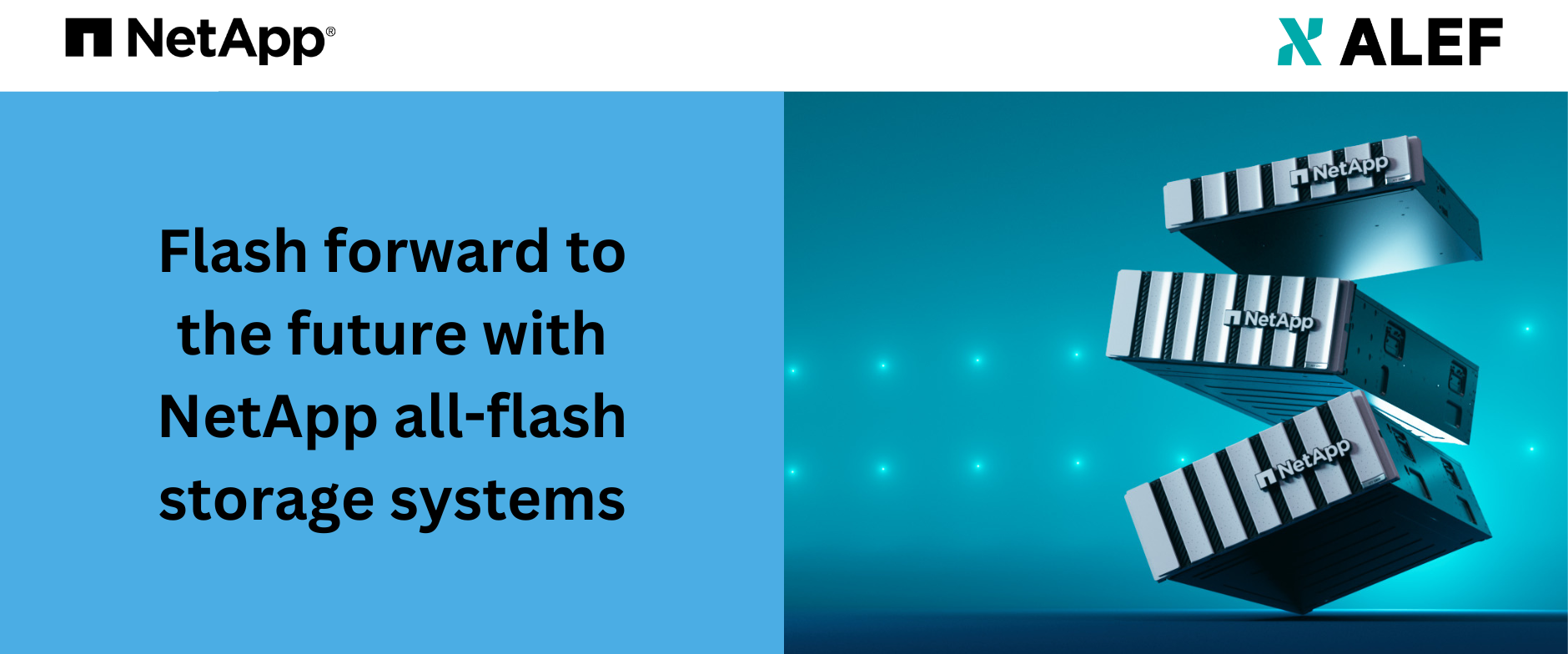 Being able to store, manage, and protect your data and applications—anywhere you need them, in your data center and in the cloud—is more important than ever for your organization. And let's be honest, with tightening budgets and an uncertain future, it's not an easy task.
Are you looking to redefine your storage experience with all-flash storage systems—from performance to capacity and hybrid flash?
Maybe you're looking to take the fundamental first step in IT transformation and to make the most of your data center right now?
Look no further.
NetApp and ALEF are redefining your storage experience
We're introducing new state-of-the-art flash storage systems and innovative programs that give you buying confidence for today and tomorrow. We can elevate your business to a new level of flash performance at a lower cost, with integrated data protection and unified management.  
Simple, secure, and sustainable for every budget. Sound interesting? 
Get enterprise flash at a price you'll love: The new NetApp AFF A150 system.
Experience high-performance flash that delivers speed, responsiveness, and proven protection for your critical business applications without breaking the bank. NetApp® AFF A150 systems deliver:  
 
•    Ease of use. Simplify your IT operations with seamless data management, on-premises and in the cloud. 
•    Higher performance. Speed up your existing and emerging applications. 
•    Data protection. Keep your business-critical data available, protected, and secure. 
•    Cost-effectiveness. Reduce your costs and minimize your data center footprint. 
Or discover more choices, no compromise with NetApp AFF C-Series capacity flash.
NetApp AFF C-Series systems are based on quad-level cell (QLC) memory technology and deliver the performance that you need without compromising on affordability. Let us help you get the right performance, at the right price, to meet your sustainability goals and to make your business:  
•    Efficient. Reduce your TCO and energy costs while you simplify operations. 
•    Scalable. Scale capacity and performance seamlessly without disruption as your data grows. 
•    Secure. Keep your business-critical data available, protected, and secure. 
•    Cloud-connected. Connect to the cloud in just a few clicks with the NetApp BlueXP™ single unified control plane for storage and data services. 
So don't flash back, flash forward to the future with NetApp's new solutions portfolio. Contact ALEF to schedule a meeting that's tailored to your business needs.