The Flowmon solution provides IP flow-based monitoring to networks from 10 Mbps to 100 Gbps. It provides network monitoring, security, troubleshooting, IP accounting and billing, capacity planning, user and application monitoring, law fulfilling data retention, Network Performance Monitoring (NPM) and more. The Network Behavior Analysis (NBA) module enables automatic detection of operational and security events, undetectable by tools commonly in use (such as traditional network firewalls, antivirus, IDS/IPS).
A plug-and-play, of-the-shelf solution that integrates all modules necessary for network traffic, performance and security monitoring provides quick time to value and increase ROI.
NETWORK MONITORING
Detailed network traffic monitoring (NetFlow, IPFIX, sFlow) to organizations (SMBs, enterprises, government, academic organization, ISPs) provide needed complete network visibility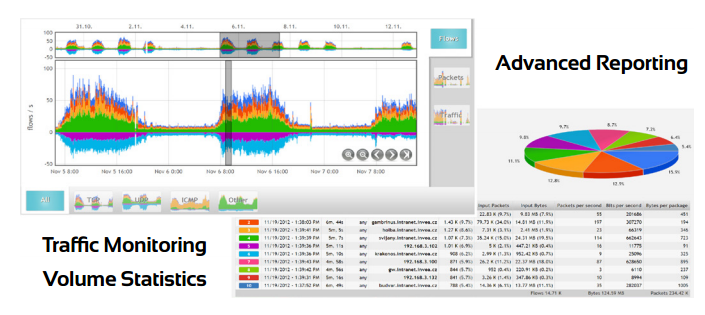 SECURITY MONITORING – NBA
Network Behavior Analysis (NBA) module uses automatic flow analysis to identify malicious activities, zero-day attacks and advanced persistent threats to increase network security.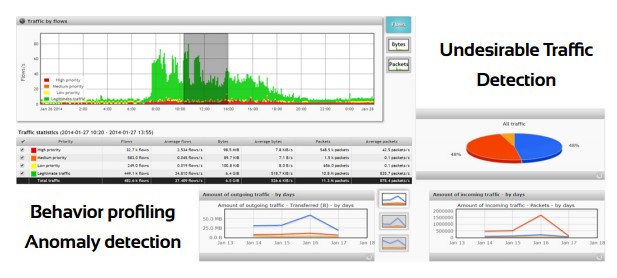 BENEFITS OF FLOWMON SOLUTION
EFFICIENT NETWORK MANAGEMENT & PROCESSES
Operational and configuration issues are detected and identified immediately – prior to causing nightshifts, downtime or disgruntle users/customers.
Reduction in operational issues allows concentration on infrastructure optimization and provided services.
Network monitoring processes as mandated by law or internal directives are fulfilled and automated.
SECURED INFRASTRUCTURE
Infrastructure protection against new security threats (social engineering, inside attacks, data leakage, advanced persistent threats, sophisticated attacks, etc.).
Security incidents are detected in real-time minimizing the risk and increasing time to resolution.
Reduction in rouge software, services and network abuse.
COST SAVING
Significant reduction of administrative overhead; Fast and efficient problem resolution.
Lower financial impact of security incidents.
Optimization of network application licenses, SLA and peering optimization, etc.
REFERENCES