Every now and then, deployment or development of new applications probably in every organisation is hindered by infrastructure and people in charge of it. That is the reason why ever-increasing number of IT development companies takes up using cloud technologies. Such companies need to give up thinking about infrastructure and solely focus on what is profitable - i.e. mainly services and applications.
If we asked virtual environment administrators what they hate about the infrastructure, most of them would probably answer that it is storage. There are many reasons for that:
traditionally storages accounted for 70 % of the performance issues occurring for applications. It was often the least predictable part of the infrastructure - both from the performance and cost perspective. Neither efficiency scaling nor capacity of the traditional storages can be linear.
Another reason is that due to non-existence of well-elaborated QoS for most of the disk arrays, it was impossible to effectively divide performance among all applications as needed. Dedicated environments were usually preferred for really critical systems. This was caused also by the fact that highest performance from the product list often did not correspond to the performance of the depicted configuration in the real environment. With constantly increasing complexity of the environment, administrative requirements rise, too. This also results in investments in the secondary personnel in charge of the datacentres. Such attitude, however, means substantial price non-efficiency and it reminds the world of datacentres before launch of virtualization.
Cloud providers such as AWS have entered the game and ruthless struggle for price focused on efficiency, availability and fastness of deployment of new services has drawn the line between bankruptcy and prosperity. This environment actually gave birth to the technology for the future generations of the datacentres called SolidFire.

SolidFire has been designed particularly for the solutions of the most complex IaaS environments and it enables the clients to set up the state-of-the-art cloud and hosting services - both in the private and public sector.
Architecture of this platform can be perceived as Lego brigs & pieces. We can build from them a cluster with up to 100 nodes where each piece has clearly defined performance (50 000 or 100 000 IOPS) and capacity where performance and capacity is counted up. It differentiates from an arbitrary storage solution in a way that minimum, maximum and burst performance is guaranteed per application (LUN).
The storage itself can be administrated straight from VMware or OpenStack where integration is a sort of easy peasy task. Admins actually do not need to enter the storage management, scaling is very predictable and administration maximally comfortable. One shared platform can be built for all applications for which only three clicks are needed for allocation of the capacity or performance. The infrastructure is configured on its own in the background in a way that it is able to provide you with full capacity and performance.
Architecture is resistant to outages. Therefore any SSD defect is resolved on its own within 10 minutes. In addition, outage of the whole node is resolved on its own within one hour. This brings substantial service savings since, for instance, service response is sufficient by the next day also for the critical applications. It is because the issue itself is resolved in the background not later than within one hour without any impact on performance. Datacentres' architects as well as administrators do not need to define RAID or plan complicated allocation of LUN and tiers, test performance or have on-call duty in case of outage of the nodes.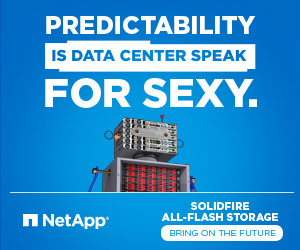 Undoubtedly, one of the essential benefits is the fact that all data on this shared platform is deduplicated, and compressed. In comparison with the regular storage, effectiveness is regularly achieved on the level from fourfold to tenfold of the used capacity as opposed to the clean capacity also in cases where most experts would not expect such effectiveness. This brings huge profits for the production environment.
Customers can benefit from consolidation of applications in only one storage and they do not need to resolve low performance issues of the applications any more or deal with awkward allocation of resources or complicated management. 
Guaranteed Performance
Comparing to the competitive solutions, SolidFire is able to allocate performance independently of the capacity. Unique integrated QoS management ranks among the best ones in the world and guarantees the customers with the safe combination of various application loads on only one platform.
Scalability
SolidFire disk array is able to grow according to the customer's needs. Scaling architecture enables customers to increase capacity as well as performance without any issues and in granular manner without any useless outages, complicated planning and financial impact.         
Data Protection and Self-regeneration Architecture
Built-in Helix data protection provides high protection guaranteed for the most critical customer data. Self-corrective architecture protects customers' data against any unplanned outages and reduces time needed for attainment of full redundancy.
Automatized Management
Integrated automation of all activities decreases operational costs and speeds up administrative interventions. Thanks to the automation, SolidFire is able to accelerate response to the customer's business requirements that require fast preparation of the environment and immediate resolution of the problems.
Global Data Reduction
Acceleration of investment return is supported by default activation of the functions such as deduplication, compression as well as thin provisioning.
Application Integration
If you rank among people who hate storage, SolidFire is exactly intended for you since complete set up happens actually automatically via VMware vCenter plug-in or Open-Stack driver etc. Furthermore, integration is possible via Microsoft VSS provider. You do not need to take care of the storage and eventually the infrastructure is your servant - not other way round.
Demo unit
In order to try out the platform or for more information, contact NetApp specialists at Alef Distribution  which is the exclusive SolidFire renting spot. 
Contact us: AD-NetApp@alef.com