If you're like many of our customers, you are tackling new opportunities from the exponential growth of rich media, which can provide both deeper customer insight and a competitive edge in the marketplace. The opportunities are boundless, but the associated challenges can be foreboding. With NetApp® StorageGRID® Webscale you can fearlessly face the challenges and take full advantage of the opportunities.
Twenty years ago, architectural decisions were very infrastructure-centric. Decisions were made in silos of servers, storage, and networking. A decade later, virtualization shifted to a solution-level focus that was driven by the needs of the applications. More recently, we have seen an explosion of edge devices that create rich content in the form of personal videos, streaming entertainment, and a nonstop flow of information from the Internet of Things. As a result, strategic decisions now are based on the data and on the value that can be abstracted from it. The market landscape is dynamic, and now is the time to reconsider the benefits of object storage as it applies to the future of your business.

Object storage can be scary. It feels different, it smells different, and you might not be sure how to best use it in your environment. It is a very flexible and useful technology, but, historically, it has been viewed as an inefficient use of resources. Around the year 2000, the growth of web-based information increased the demand for object storage, and first-generation object storage designs filled the gap. These products were designed solely for cost optimization. They focused on "cheap and deep," and they had proprietary APIs with hardware-centric designs to lock you into a particular vendor.
Along the way, the data storage world changed dramatically. The emergence and availability of the public cloud created a need for more standard and open APIs (such as Amazon S3). These open APIs created a culture of collaborative efforts between Development and Operations, speeding business innovation and return on investment—and changing the competitive landscape of business forever. Proprietary hardware became viewed as stifling innovation, which set the stage for software-defined storage and services to become a reality. 
In this new world, the aging first-generation designs began to highlight market gaps that were created from their design points. These original proprietary designs created investment risk by locking you into unique hardware and closed APIs. They made the system rigid because they didn't acknowledge the fact that not all data is created equal and that the value of data changes over time. And as you consider hybrid cloud workflows, these first-generation designs leave your data stranded, forcing you to choose between on-premises or off-premises storage with no simple portability. 
The reality is that you and other customers are demanding more than what these first-generation offerings can architecturally provide. Innovative object storage must truly unleash the value of your unstructured data at scale. It must be:
Open to future-proof your investments. It must embrace the modern standard of Amazon S3 API-driven management, allowing tight integration with the modern applications that are being developed.
Optimized to deliver differentiated service levels with your data. Sophisticated integrated lifecycle management should allow you to define differentiated service levels, data sovereignty, and retention requirements on a per-object basis. You should be able to dynamically adjust these policies as your business needs change over time.
Extensible to bridge hybrid cloud workflows and to take advantage of the security of on-premises storage, as well as benefit from the scale and innovation of serverless computing.
At NetApp, we have worked with our customers to recognize this change in the world. We have doubled down our investment in recent years to provide these open, optimized, and extensible attributes in our NetApp StorageGRID Webscale appliance. With the recent release of StorageGRID Webscale 11.0, we now offer an innovative technology that enables you to manage your unstructured data at scale. For a deeper dive, check out our recent blog that goes into more detail about our latest technical features.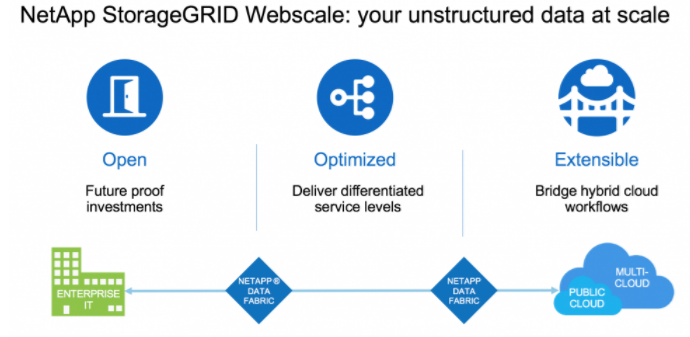 It's amazing how closely this vision and these features align with what our customers and the leading analysts are discussing. In Gartner's recently published "The Future of Object Storage" report, analysts highlight the following trends:
There is a growing synergy between public cloud–based storage and on-premises products and services.
New use cases require an open, flexible, integrated approach that unites traditional, on-premises storage with the public cloud.
The Amazon S3 API still holds the lead in object storage APIs, so OS vendors must integrate to prevent lock-in.
The feature of two-way synchronization shows promise for object storage vendors who provide hybrid cloud tiering services.
Specifically, Gartner recognizes NetApp's deep partnership with Amazon Web Services (AWS) as we help our customers innovate and compete with the value of their data. 
Now is the time to educate yourself on the value of object storage as you embrace modern, data-centric solutions and tackle the challenges of rich media, distributed content, and data from the Internet of Things. To learn more about where this market is going, check out the Gartner report: The Future of Object Storage. 
If you're ready to jump into object storage to manage your unstructured data at scale, read more about how StorageGRID Webscale can help, or sign up for a free customized demonstration.