Today I am going to give quick overview on Cisco Security SDN product : Cisco ISE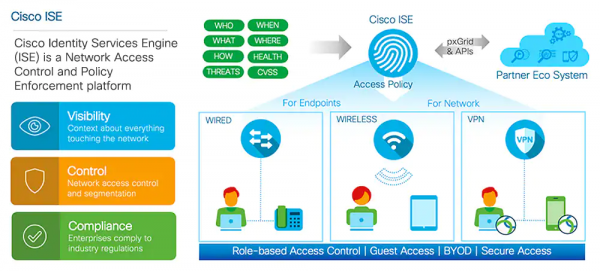 Cisco Identity Services Engine (ISE) is a next-generation identity and access control policy platform that enables enterprises to enforce compliance, enhance infrastructure security, and streamline their service operations.
The unique architecture of Cisco ISE allows enterprises to gather real-time contextual  information from networks, users, and devices. The administrator can then use that information to make proactive governance decisions by tying identity to various network elements including access switches, wireless LAN controllers (WLCs), virtual private network (VPN) gateways, and data center switches.
Cisco ISE is a key component of the Cisco Security Group Access Solution.
Cisco ISE is a consolidated policy-based access control system that incorporates a superset of features available in existing Cisco policy platforms.
Cisco ISE performs the following functions: 
Combines authentication, authorization, accounting (AAA), posture, and profiler into one appliance
Provides for comprehensive guest access management for the Cisco ISE administrator, sanctioned sponsor administrators, or both
Enforces endpoint compliance by providing comprehensive client provisioning measures and assessing device posture for all endpoints that access the network, including 802.1X environments
Provides support for discovery, profiling, policy-based placement, and monitoring of endpoint devices on the network
Enables consistent policy in centralized and distributed deployments that allows services to be delivered where they are needed
Employs advanced enforcement capabilities including security group access (SGA) through the use of security group tags (SGTs) and security group access control lists (SGACLs)
Supports scalability to supporta number ofdeployment scenarios from small office to large enterprise environments 
source: cisco 
Szeretnél többet megtudni?
Vedd fel velünk a kapcsolatot az alábbi elérhetőségen:
Mohit Tiwari
Group Sales and Training Consultant
+36 20 224 0271
Mohit.Tiwari@alef.com