Webinar Veeam | Start, grow and win with ALEF&Veeam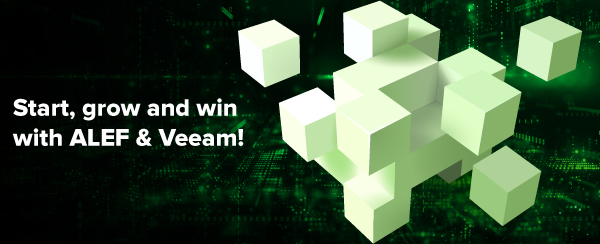 Ne dorim să vă oferim toate informațiile de care aveți nevoie pentru a vă putea crește și dezvolta afacerea. Tocmai de aceea, am pregătit un webinar menit să acopere toate detaliile importante legate de brandul VEEAM și să răspundă întrebărilor pe care le-am primit.
Astfel, pe data de 21 octombrie, de la ora 11, vă invităm să participați online la webinarul în care vom discuta despre licențierea Veeam, despre beneficiile de a fi partener Registered, Silver sau Gold, despre promoțiile și soluțiile ALEF și Veeam. Vom avea și un invitat special, Valeria Codrean, Channel Sales@Veeam.
21.10.2020, De la 11:00 Către 12:00
Agenda
Welcome coffee – Cristian Serban, Alexandru Damian 
Despre ALEF – Cristian Serban
Soluțiile Veeam - Valeria Codrean 
Licențiere, certificări, parteneriat, beneficii și promoții – Alexandru Damian
Durata webinarului: 1 oră
Program:
21.10.2020
De la 11:00 Către 12:00